We are proud to have close partnerships in the retail industry with some leading brands to help keep staff and customers clean and safe.
The Impact of COVID-19 on the Retail Sector
The impact COVID-19 has had on the retail sector has presented many challenges and many businesses have had to adapt their outlook on customer and staff safety.
The anxieties caused amongst shoppers have intensified by concerns about cleanliness and catching the virus through cross-contamination in retail and supermarket stores.
Consumers have changed, and they are not the same people who were shopping before the pandemic.
Retailers should review their sanitation procedures and increase their sanitation frequency, especially for high-touch surfaces and public areas.
Fortunately, we can help retailers adapt to whatever the requirement in order to ensure they are equipped to process maximum demand whilst keeping staff and customers safe.
This revolutionary trolley and basket machine enables customers to sanitise their own shopping trolley or basket in just 3 seconds to ensure complete peace of mind that they are protected against deadly viruses such as COVID-19
Studies have shown that shopping trolleys and baskets have proven to be one of the largest virus and bacterial spinners in public spaces. They connect the most diverse users with each other since everyone leaves their personal germs including pathogens there after use.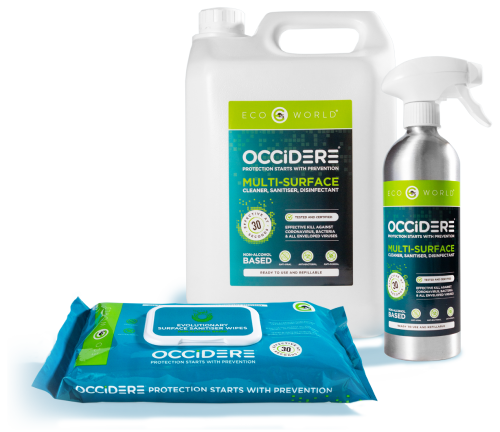 Our non-alcohol based multi-surface cleaner, sanitiser, and disinfectant has a unique 30-second effective kill time for bacteria and all enveloped viruses, including coronavirus.
This unique formula is also available as biodegradable wipes making it quick and simple to disinfect door handles and payment stations.
Our OCCIDERE™ range is trusted by retailers around the world to help sanitise surfaces where hygiene is paramount for customers and staff
These products are the best in the business!
"A British company with a product that has been tested to do what it says on the packet. We have a number of RS Eco World products and found all of them to be first class, we will be back. Very happy!"
MIMOSA
"These products truly are the best in the business! They do exactly what they say on the tin and I couldn't be happier to find a range that I can use everywhere around my house and are top quality and environmentally friendly.
Paul was also very helpful to point me in the right direction of what products would work best for certain things. Couldn't recommend enough!"
BECKY JONES
"Great product safe and eco, no nasty chemicals and so I can use it wherever I like without concern. I love that the container is not plastic."
LAMB
"Quickly received - thank you"
MARTIN KING
"RS Eco world are a step above the run of the mill products. Will buy again!"
ANDREW
"RS Eco World has fantastic products - highly recommended!"
PAULA HANSEN
"OCCIDERE™ is a superb product, I can use it with confidence knowing that it is safe to use from harsh chemicals. The multisurface cleaner does not leave residue in the air and it does the job. I also have the hand rub which I love, it looks good and the foam is easy to rub in, with no alcohol. I found out that this is an award-winning product so I am looking forward to more products becoming available".
RACHEL KINGDOM
If you are a retailer and would be interested in introducing our products into your stores we can help!